Many fans out there in love with the Enchanted and Romantic scene from the Twilight: Breaking Dawn movie. I must admit I have not seen nor read any of the books, so I know nothing nor am I a fan. On the other hand, I must admit that this wedding scene is too die for...not literally, being that there are vampires in this movie:) Seeing this scene makes me fall in love all over again. From the intense emotions you see on Bella' face as she walks down the aisle, to the look on Edward's face as she approaches him....sooooo romantic.
Check out the video.
Okay getting a little carried away here.
From searching the Twilight wedding, I realized I had a misconception of what this wedding theme would be. Many people depict it as being gothy and vampirish, with red, black and/or maroon colors. But on my quest, I discovered it to be an Enchanted, Woodsy, Natured Inspired, Delicate, Romantic, Modern Fairy Tale wedding. Can you tell I'm in love with this theme?
Below are some inspirations and alternatives to creating the
Twilight Wedding look for less. Also check out my other post on creating Bella's look for less along with the ceremony video. You can perhaps combine this theme with my post on the love bird theme.
The Inspiration
Twilight Theme Wedding Inspirations:
Elegantly Inspired by Nature



Create your Twilight Wedding Look for Less


Candelabra with Floral Arrangements
$194 each (Ouch!)
White Bejeweled Candelabras
$16.70 each
(More like it)
White Bejeweled Candelabras
$16.70 each
Floral Foam Cubes $1.00
Mirrors can be quite pricey. While venturing to create theses mirror boxes for less, I came across these self adhesive mirrors. Put these mirrors on square foams, squared vases or even recycled boxes and you'll save yourself lots of Mula.
Note: I have not experience with these products nor done this project, so I can't guarantee their quality. Definitely a project I would like to attempt in the near future. If you try this or have other ideas, feel free to comment.
Save money by Alternating your Centerpieces
Source
For you DIY brides, create these beautiful floral boxes by using those self adhesive mirrors and adding your choice of flowers. Alternate these with the Candelabras to give you that glam wedding look for less. Rememeber by alternating your centerpieces not only do you create a variation but you also save money on your wedding decor. Go a small step further to create a romantic ambience by adding some votives.
Create your Look for Less by Using Candle holders instead of Candelabras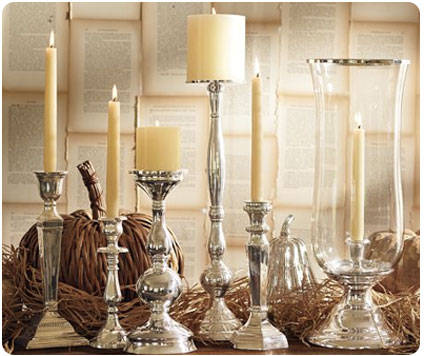 Source
If the price of those candelabras still seem a bit steep, consider this option. Like mentioned from the source,
shop thrift store
for candle holders and spray paint them to give you that elegant look. Or option 2, like mentioned in the source,
buy
wooden candle holders
and spray paint them in silver.
Complete the Look
Stay tune for the Natured Inspired version of Twilight Look for Less. Feel free to comment on this Look for Less.